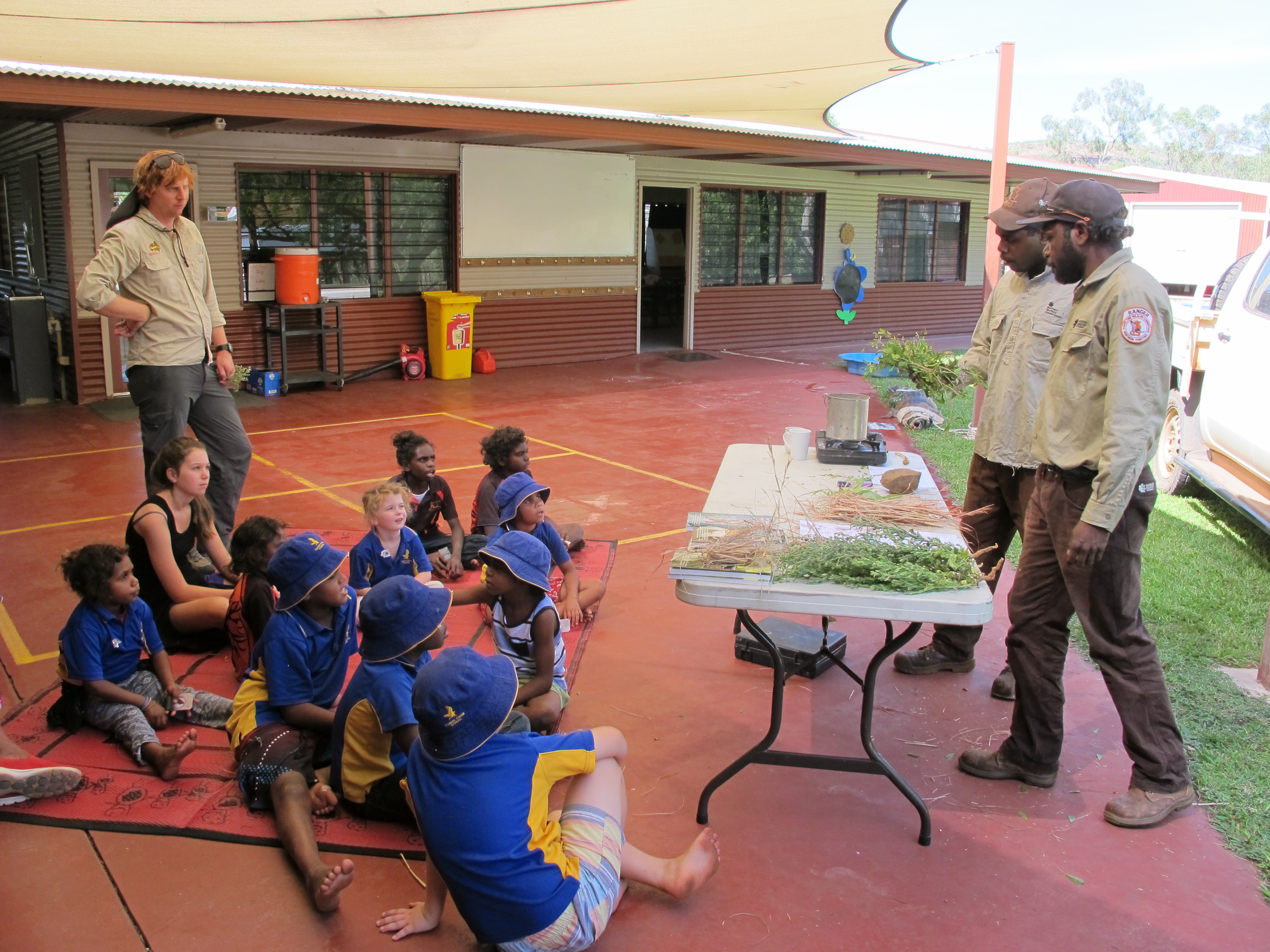 Bush Blitz scientists got to share their enthusiasm about the plants and animals of the Victoria River region last week with the students of Timber Creek and Bulla Camp Schools.
It was a fantastic opportunity for the kids to meet real life scientists and discover that they are just like everyone else; women and men, young and old, with big smiles and a sense of humour.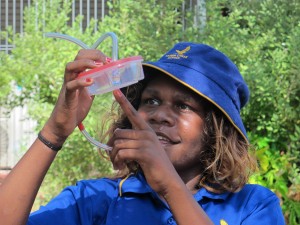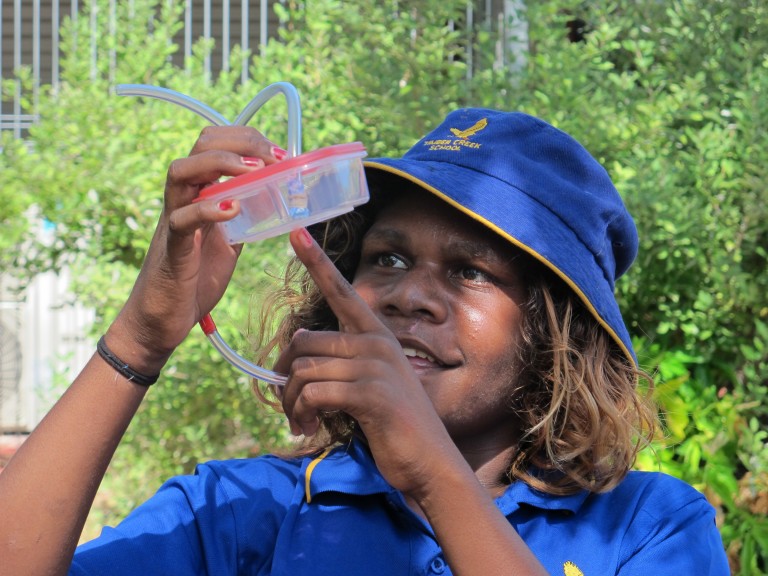 The scientists' excitement was contagious. The kids enjoyed hearing about what the team has been doing on the Bradshaw Bush Blitz. They even got to try out some of the specimen collection techniques.
The fish biologists' electro-fishing techniques were pretty mind-blowing for kids who have grown up with more usual fishing methods, like rods, lines, traps and nets.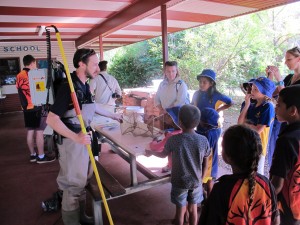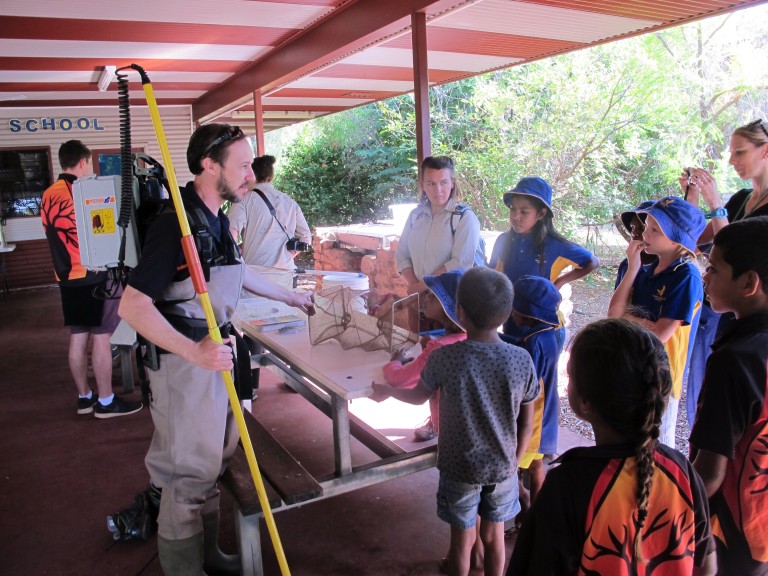 The opportunity to touch reptiles and ask any questions of the people that live and breathe these animals was a real treat.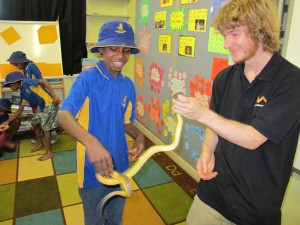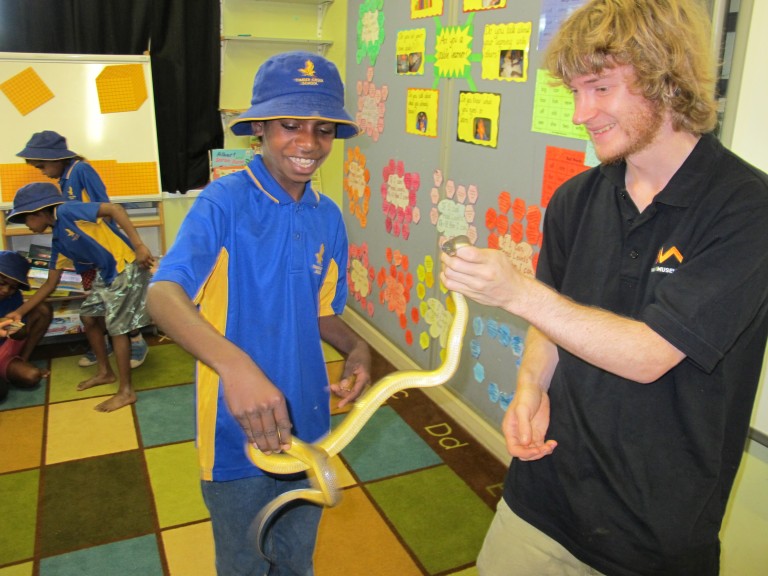 When butterflies, dragonflies and damselflies usually fly past so quickly, the chance to examine them closely makes them all the more fascinating. Their incredible details and colours are on full display.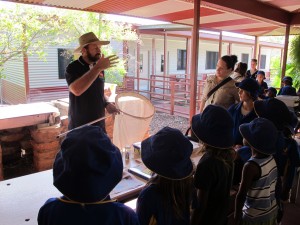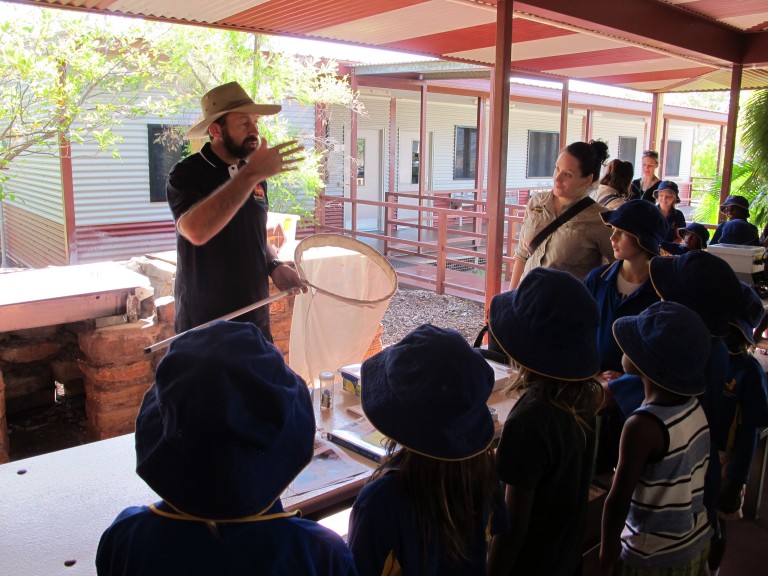 The botanists showed the kids how they store plant specimens and explained the steps involved after collecting a plant in the field to making information on that plant available online and in published materials.
Many of the kids eagerly accepted the opportunity to have a large spider crawl over their hands. And enjoyed getting up close and personal with some enormous hairy tarantulas.
The learnings for the scientists were just as important. The local kids were able to tell them about their own observations of the natural world. Their keen young eyes and inquiring minds are a valuable source of knowledge. They brought some new ways of thinking about the species the scientists have been investigating.
Five teachers from around Australia also got to share in the two-way learning at Timber Creek School, as part of their participation in Bush Blitz Teachlive. The teachers are an integral part of the Bradshaw expedition, helping the scientists with their field research while sharing their experiences with their students through the Bush Blitz TeachLive website.
While on the expedition the teachers are also improving their web-based teaching skills, finding out about the unique environment of northern Australia and learning current research techniques which they can use to engage their students in science and nature.
Yesterday we the school we were also lucky enough to be joined by Indigenous rangers from the Northern Territory Parks and Wildlife Commission who showed some bush tucker plants and a crocodile from the local area.
The Bush Blitz team hope that some of the kids might be inspired to work in the natural sciences one day in the future.
Special thanks to the staff and students of Timber Creek and Bulla Schools, especially Jedda Truman, for organising and hosting the Bush Blitz visit.