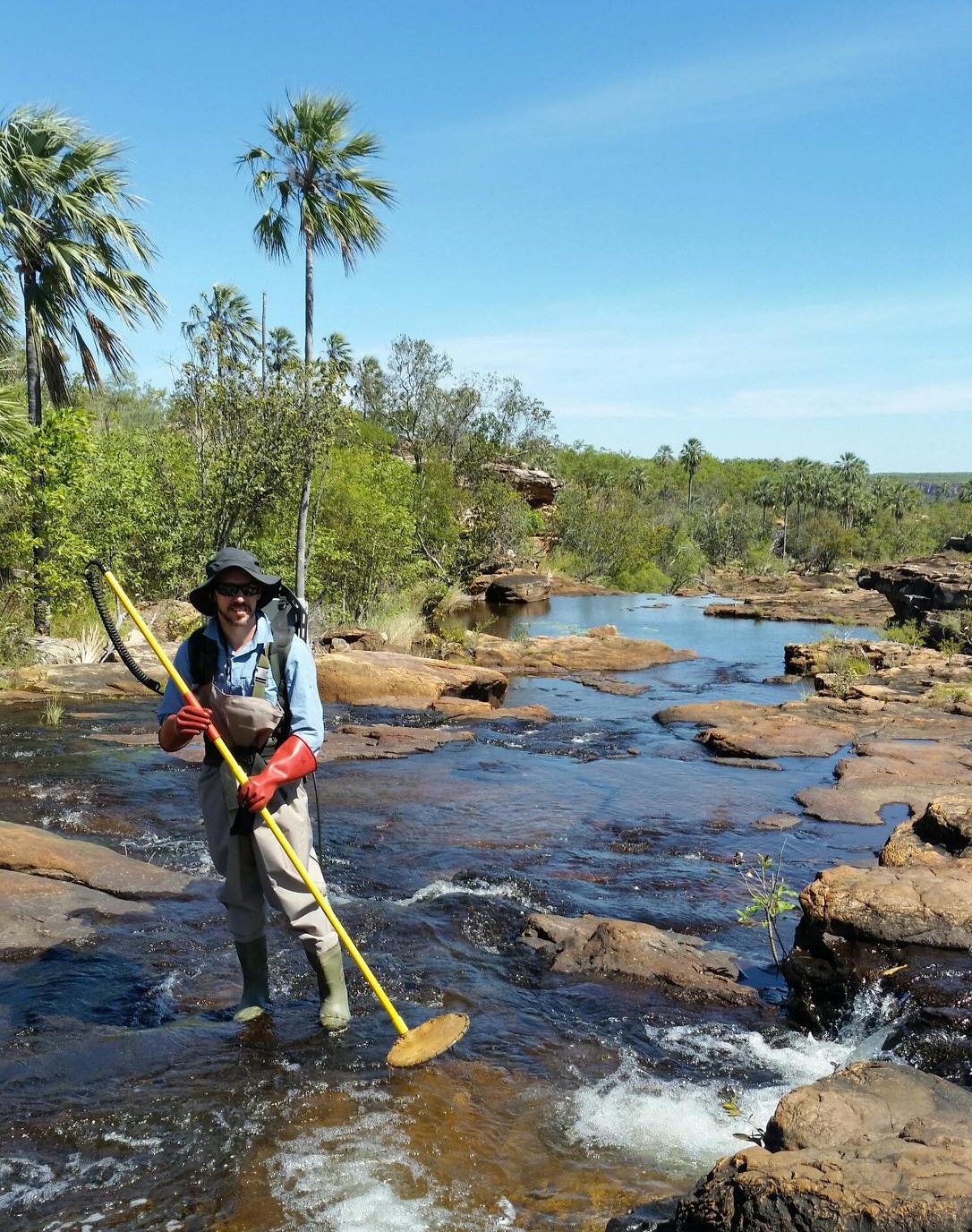 The first question nearly everyone asks, after hearing about the electrofishing technique used in the collection of freshwater fish specimens on the Bradshaw Bush Blitz, is whether or not it was used for catching any barramundi.
Well yes, a couple of impressively sized barra were stunned. According to one of the Bush Blitz Teachlive teachers who was in assisting the fieldwork on that day, they looked very impressive and very tempting. But no, our ethical fish team ensured they remained alive and in the water. Reporting back at base camp that evening – along traditional lines of "it was THIS big!" along with outstretched arms – produced cries of "We could have had that for dinner!" from the rest of the crew. In jest of course, as fish species not being collected or sampled for identification, determination of  abundance, or other information, are always left unharmed and in their original location.
Fish were one of the target groups of vertebrate species on the Bradshaw Bush Blitz as some of the rivers that run through the Bradshaw Field Training Area – in the north-west of the Northern Territory – have hardly ever been surveyed and sampled for their fish populations. The freshwater habitats of the area represent a significant biodiversity information gap in between the moderately well researched East Kimberley ecosystems to the west and the Top End ecosystems to the north.
Electrofishing was an important specimen collection method, along with nets and fishing lines. The fish are temporarily stunned by an electric current that passes through the water between the pole (anode) and the wire (cathode) that can be seen trailing from the battery backpack. The current causes the fish's muscles to contract allowing capture. After a couple of minutes the fish recover to their natural state.
Rather than cooking delicious barramundi on the banks of the river, it was the fish biologists who were cooked. Michael Hammer from the Museum and Art Gallery of the Northern Territory and Glenn Moore from the Western Australian Museum had the toughest working conditions of all the scientists. On the one hand they got to stand next to or in the waters of the area's picturesque creeks, rivers and billabongs. On the other hand, they were mostly wearing thick rubber waders and gloves, while carrying about 15 kg of electrofishing apparatus and battery. In mid-30s temperatures, and often in full sun, this protective clothing brought an extreme level of heat challenge to the fieldwork.
The fish team had great success in finding fish species that will lead to new knowledge and information on their distribution and habitat. Some of these included rainbowfish, catfish, grunters, glassfish, hardyheads, mullet, gudgeons and gobies to name a few!
By any measure, the Bradshaw Bush Blitz was a good fishing trip.
Image: Dr Michael Hammer, NT Museum and Art Gallery, electrofishing