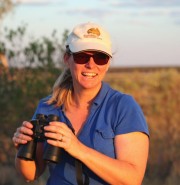 Jo Harding
Bush Blitz Manager
Jo Harding (MPhil (Wildlife Conservation Management); BA) is the Bush Blitz Manager. Jo has undertaken field work in Australia, Thailand and Vietnam. Before moving into the field of natural resource management she studied non-human primates and has published and presented scientific papers on the study of wild and captive primate behaviour, ecology and taxonomy. Jo has worked and travelled in Thailand, Vietnam, Pakistan, India, Indonesia and the United Kingdom. She has 3 children and lives in Canberra.
Sabrina Trocini
Bush Blitz TeachLive Coordinator
Sabrina is the program coordinator for the biodiversity citizen science program at Earthwatch, and coordinates Bush Blitz TeachLive. Sabrina graduated in veterinary science and followed her passion for wildlife and environmental conservation in her postgraduate studies. She lived in WA for 12 years where she completed her PhD on loggerhead turtle health and hatching success. Sabrina feels fortunate to have had the opportunity to participate in a wide range of conservation and monitoring projects around the world, often in very remote locations and has worked in a variety of sectors (e.g. research, tertiary education, ecological consultancy and not-for-profit). Sabrina now lives in Melbourne with her husband, daughter and dingo cross.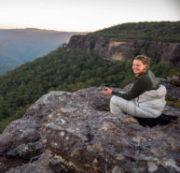 Dr Kate Grarock
Bush Blitz Senior Project Officer
Dr Kate is an ecologist, who worked for 5 years on research and restoration of critically endangered grassy woodlands in the ACT, before joining the Bush Blitz team. This work included reintroducing locally extinct species, such as the Eastern Bettong, Quoll and Bush Stone-curlew. Kate also developed a suite of education programs for the Mulligans Flat Woodland Sanctuary, sharing science with policy makers, students and the local community. This work resulted in her being a Eureka Prize finalist in 2018 and ACT Australian of the year nominee in 2019.
In her spare time Kate loves hiking and packrafting; and is a member of the NSW Bush Search and Rescue Squad.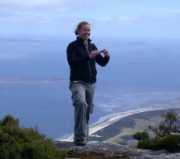 Kate Gillespie
Bush Blitz Senior Project Officer
Kate (B. Science - Honours in Zoology) is a Bush Blitz Senior Project Officer and Field Team Leader. Kate joined the Bush Blitz team in 2010 and has lead 19 Bush Blitz expeditions across every state and territory in Australia. Kate has over 15 years experience in undertaking biological field survey management and ecological impact assessments for the private and government sectors. She has undertaken volunteer work for a number of conservation organisations and worked on threatened species programs throughout Australia. Originally from Melbourne, Kate has also lived and worked in Ireland as an ecologist and has undertaken coyote research in California USA. Kate has been playing AFL for over 5 years.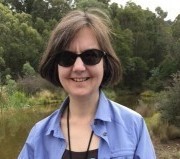 Paula Banks
Bush Blitz Reporting Officer
Paula (BSc Hons Zoology) compiles the reports that follow each Bush Blitz expedition. Growing up in Wales, Paula's interest in wildlife led her to undertake personal species discovery trips to places such as Madagascar and the Galapagos Islands before she finally settled in Australia. Paula is passionate about science communication and delivered environmental education and volunteer management through non-profit organisations before joining Parks Australia in 2012.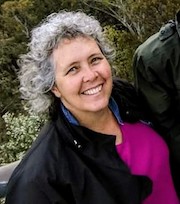 Helen Cross
Bush Blitz Senior Project Officer
Helen (BSc - Ecology & Natural Resources) joined Bush Blitz at the end of April 2019 to look after administration and finances and is currently acting as a Senior Project Officer. Helen grew up in Canberra, then moved to western Queensland, where she enjoyed working as a Wildlife Ranger and Park Ranger. She married a local lad and they have 3 children. Helen has had a varied career including working as a Regional Landcare Facilitator at Desert Channels, Queensland. Helen and her family moved back to Canberra 2016 where Helen has worked in grant management with the Department of the Environment and Energy, and at the Australian National Botanic Gardens as an Administration Officer. She loves photographing wildlife in her free time. Check out some of Helen's amazing photos on the Bush Blitz Instagram, Twitter or Facebook sites.