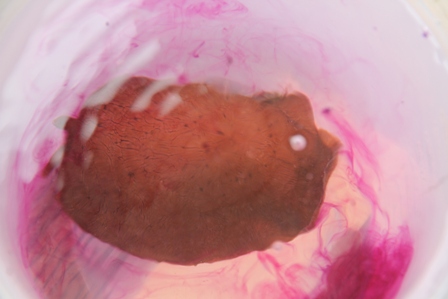 From the deserts of central Australia to the wet topics of the top end right down to the alpine areas of Tasmanian Bush Blitz scientists have discovered new species and made thousands of new records. Surveying some of the remotest places in Australia isn't always easy so 4WDs and helicopters are the usual way these scientists get to work each day. But in February scientists from the Tasmanian Museum and Art Gallery and Tasmanian Herbarium joined the Bruny Island Bush Blitz with a new mode of transport – boat.
In partnership with the wonderful Woodbridge Marine Discovery Centre, scientists and science teachers from New South Wales, Victoria and Queensland collected a range of amazing sea creatures and marine algae for further identification. These included……………….
Middle school teacher Jade Tinny from Rock Central School in NSW described the experience so well in a blog to her classes "The species collected from this surveys, both algae and invertebrate species, were absolutely wonderful. We collected an awesome invertebrate called the purple hare, which is a slug that shoots out purple ink when it is threatened". 
See more of Jades blogs, lesson plans and short videos from all the teachers involved in the Bush Blitz TeachLive Bruny Island expedition.
Teachers and school involved were:
Jade Tinney – Rock Central School, NSW
Louise Hoey – St Stephen's School, Qld
Mary-Anne Kefaloukos – Edgecliff Prepatory School, NSW
Nicole Saddler – St Aloysius Catholic Primary School, Vic
Bruce Mills – Rollingstone State School, Qld