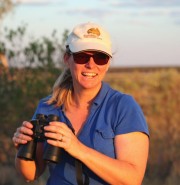 Jo Harding
Bush Blitz Manager
Jo Harding (MPhil (Wildlife Conservation Management); BA) is the Bush Blitz Manager. Jo has undertaken field work in Australia, Thailand and Vietnam. Before moving into the field of natural resource management she studied non-human primates and has published and presented scientific papers on the study of wild and captive primate behaviour, ecology and taxonomy. Jo has worked and travelled in Thailand, Vietnam, Pakistan, India, Indonesia and the United Kingdom. She has 3 children and lives in Canberra.
Kate Gillespie
Bush Blitz Senior Project Officer
Kate (B. Science - Honours in Zoology) is a Bush Blitz Senior Project Officer and Field Team Leader. Kate joined the Bush Blitz team in 2010 and has lead 19 Bush Blitz expeditions across every state and territory in Australia. Kate has over 15 years experience in undertaking biological field survey management and ecological impact assessments for the private and government sectors. She has undertaken volunteer work for a number of conservation organisations and worked on threatened species programs throughout Australia. Originally from Melbourne, Kate has also lived and worked in Ireland as an ecologist and has undertaken coyote research in California USA. Kate has been playing AFL for over 5 years.
Dr Brian Hawkins
Bush Blitz Senior Project Officer - Data Manager
Brian's work for Bush Blitz includes: making maps, planning expeditions and choosing survey sites with GIS (Geographic Information System) technology; using survey gap modelling to inform the selection of future Bush Blitz locations; collating and distributing data; educating the public through tours, talks and articles; and leading/assisting with expeditions, both in the field and in the preparatory stages.
Prior to joining Bush Blitz in 2014, Brian spent 10 years working as an ecologist and educational ranger in northern NSW. During this time he also completed a doctoral thesis on the landscape ecology of forest birds. Brian has an honours degree in Environmental Science and University Medal from the University of NSW, and a PhD in Ecology from Monash University.
He likes to squeeze in a bit of sneaky birdwatching when he can.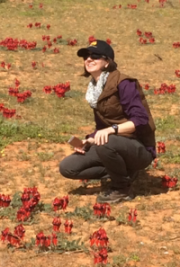 Megan Donaldson
Bush Blitz Project Officer
Megan's work includes managing the contracts and procurement for expeditions, assisting in the field and facilitating the publication of reports. Prior to joining Bush Blitz in 2016, Megan worked for the Department of the Environment and Energy in a strategic policy role, and as Visitor Experience and Public Programs Coordinator for the Australian National Botanic Gardens. Before joining the Department in 2014, Megan spent 11 years in communications working as a linguist and a peace keeper with the Royal Australian Army Signals Corps. Megan has a degree in Science (Resource Environmental Management) and is passionate about learning. Her work and studies have taken her to many interesting places throughout Australia and overseas including Papua New Guinea, Timor Leste, Copenhagen, Peru and the Galapagos Islands.
Paula Banks
Bush Blitz Reporting Officer
Paula (BSc Hons Zoology) compiles the reports that follow each Bush Blitz expedition. Growing up in Wales, Paula's interest in wildlife led her to undertake personal species discovery trips to places such as Madagascar and the Galapagos Islands before she finally settled in Australia. Paula is passionate about science communication and delivered environmental education and volunteer management through non-profit organisations before joining Parks Australia in 2012.